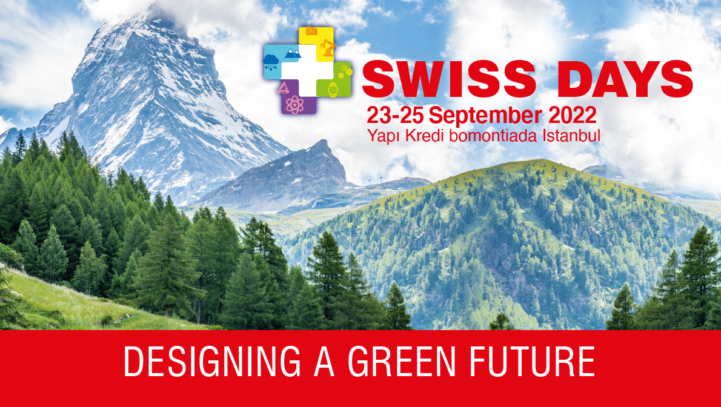 Programme of the Swiss Days
On Friday morning 23 September, the Swiss Chamber of Commerce will hold an Economic Forum. Speakers will address the topic of "Green Economy in a Blue World". Sustainability, innovation, technological developments and their impact on the economy will be in the center of the discussions.
On Friday noon, we will open the Swiss Village on the Esplanade of Bomontiada. The individual stands managed by Swiss companies will create an atmosphere of fair. The Swiss Village will be open to everybody from Friday noon on until Sunday evening.
In the Village visitors can exchange with representatives of Swiss companies, enjoy some Swiss cheese and chocolate and learn more about Switzerland and its diversity. In addition many events and activities are planned for children and adults.
GALLERY


09:00 - 22:30

LAUSANNE EXHIBITION

14:00 - 17:30

Workshop by GEBERIT
"Bathroom Trends"

(open for public, registration at the Info Desk)

19:00 - 22:30

Workshop by SIKA

(invitation only)
2nd FLOOR


09:00 - 12:30

Workshop by BORDIER
"New Challenges and Solutions on Global Economic Outlook and Türkiye"

(open for public, registration at the Info Desk)

14:00 - 17:30

Workshop by BELIMO
"Small Devices, Big Impact"

(open for public, registration at the Info Desk)

19:00 - 22:30

Cocktail Reception

(by invitation only)
SWISS VILLAGE
FREE ENTRY

12:00

Booth Opening

12:00

Photobooth

12:00

Cow Milking Competition

13:00

Alphorn

13:30

Spinning the Wheel

14:30

Cow Painting

15:00

Alphorn

15:30

Spinning the Wheel

16:00

Happy Lilly

16:30

Cow Painting

17:00

Spinning the Wheel

17:30

Cow Painting

18:00

Alphorn

20:30

Concert BConnected
GALLERY


09:00 - 22:30

LAUSANNE EXHIBITION

11:00 - 13:00

Workshop by BARRY CALLEBAUT
"Indulgent Moments with Barry Callebaut"

(open for public, registration at the Info Desk)

14:00 - 17:00

Workshop by ORIS/SARK SAATCILIK
"Screen Printing"

(open for public, registration at the Info Desk)
2nd FLOOR


14:00 - 17:30

Workshop by ABB
"ABB Electric Vehicle Charging Stations Products and Solutions"

(open for public, registration at the Info Desk)
4th FLOOR


17:00 - 19:30

Career Hours

(incl. Ceremony Young Swiss Citizens)
SWISS VILLAGE
FREE ENTRY

11:00

Booth Opening

11:00

Photobooth

11:00

Cow Milking Competition

12:00

Alphorn

12:30

Cow Painting

13:00

The Giggle Doctors

14:00

Spinning the Wheel

14:30

Happy Lilly

15:00

Alphorn

15:30

Spinning the Wheel

16:00

Cow Painting

16:30

Alphorn

18:00

Cow Painting

18:30

Spinning the Wheel

19:00

Alphorn

20:00

Concert NAOMI LAREINE
GALLERY


09:00 - 00:00

LAUSANNE EXHIBITION

(open for public)

14:00 - 17:30

Workshop by HILTI
"Building a Better Future Together"

(open for public, registration at the Info Desk)
SWISS VILLAGE
FREE ENTRY

11:00

Booth Opening

11:00

Photobooth

11:00

Cow Milking Competition

11:30

Cow Painting

12:00

Alphorn

12:30

Cow Painting

13:00

The Giggle Doctors

14:00

Spinning the Wheel

14:30

Happy Lilly

15:00

Alphorn

15:30

Spinning the Wheel

16:00

Cow Painting

16:30

Alphorn

17:00

Spinning the Wheel
Download Programme Swiss Village Download Programme Workshops